Chances are high that this versatile spice has come across your radar recently. Turmeric (pronounced TUR-mer-ic, according to the Cambridge Dictionary[1]) adds a bounty of benefits to a meal, from it's vivacious golden yellow hue to it's powerful, earthy flavors to it's numerous health benefits.
Although it is understandable and wise to be weary to believe the many articles online shouting the purported health benefits of turmeric, there is some merit to adding this flavor to your spice rack's portfolio.
Click here to read Baylor University Medical Center's Dr. Ajay Goel review 4 reasons to add turmeric to your daily routine. [2]
One benefit of this spice that is not mentioned in the above article, however, does not have so much to do with what turmeric adds to meal as it does to what it can take away – salt.
Sodium is the component of salt that is responsible for increasing water retention in the body. This translates into very bad news for an individual who is struggling with hypertension (high blood pressure) as that added fluid also means an added strain on the cardiovascular system to pump the increased volume through it. Luckily, salt's more health–conscious partner pepper is a great option to add into your turmeric dish. This is because piperine, a component of black pepper, helps to increase the body's absorption of curcumin [3]. To get the most bang for your buck, make sure to swap your salt for black pepper in recipes that include turmeric.  
If you are unfamiliar with this spice you may be at a loss for where to begin. Read below to discover 5 great ways to add turmeric (and skip the salt) in your dishes!
1. TURMERIC LEMON RICE
Click here to view @beSPICED on YouTube demonstrate this delicious recipe, her video has even more wonderful tips and information about adding this spice into your diet [4]
Ingredients:
-Long grain basmati rice – 1 cup
-Water – approximately 2.5 cups
-Turmeric powder – 1-2 teaspoons
-Pepper – 1 teaspoon
-Lemon juice  –
-Olive oil – 1 tablespoon
-Lemon zest (optional)
-Black mustard seed – 1 tablespoon
-Peanuts – 2 tablespoons
-Curry leaves – 1 tablespoon (may substitute 1 TBSP basil leaves)
-Green chilis – 2, sliced
-Cilantro – 1 handful, chopped
Directions:
-Rinse the basmati rice under luke warm water in a strainer several times
-Soak the rice in a bowl of luke warm water for 10-15 minutes prior to cooking to begin the softening of the rice
-Put a pan over medium heat and add the rice and water, bring to a boil
-Add the turmeric and pepper
-Drain the rice (which should be a beautiful golden color now)
-Heat 1 tablespoon olive oil in a pan and add black mustard seed and peanuts. Allow these to cook for approximately 30 seconds before adding the curry (or basil) leaves and green chilis. Finally, add your rice and allow the mixture to sauté
-Remove from heat and complete the dish by adding cilantro. Serve and enjoy!
2. GINGER, CARROT, and TURMERIC SOUP
Click here to check out the recipe from Lauren Caris Cooks that this recipe was adapted from
Ingredients:
-Carrots – 3, diced
-White onion – 1, diced
-Garlic – 3 cloves, minced
-Fresh ginger – 1 medium piece, finely grated
-Olive oil – 1 TBSP
-Turmeric – 2 pieces, finely grated (turmeric powder = 1 tablespoon)
-Vegetable stock – 4 cups
-Lemon juice – 1 tbsp
-Black pepper – 2 teaspoons
-Canned coconut milk (for topping)
-Black sesame seeds (for topping)
Directions:
-Heat up olive oil in a large stock pan and add the onions, sauté until soft and translucent
-Add the minced garlic, turmeric, and ginger and cook for another minute. Add the diced carrots and sauté for an additional 2 minutes
-Add the vegetable stock and let simmer for 20-30 minutes until the carrot is soft enough to be blended
-Use a mixer/stick blender to blend this soup until smooth, or transfer the soup to a blender to mix until smooth.
-Stir in the lemon juice and top with a swirl of coconut milk and black sesame seeds for subtle flavor and presentation. Serve and enjoy!
3. SAUTÉED VEGGIES
Ingredients:
-Cauliflower – 1 large head, chopped
-Yukon potatoes – 2, cubed
-Zucchini – 2, sliced
-Garlic – 2 large cloves, minced
-Turmeric – 1 TBSP
-Lemon pepper – 1 tsp
-Lemon juice – 2 TBSP
-Paprika – 2 tsp
-Black pepper – 1 tsp
-Olive oil – 5 TBSP
Directions:
-Add oil to large pan over medium heat and heat the garlic. Stir in cauliflower and Yukon potatoes, allow to sauté for several minutes until they start to become tender
-Add in zucchini next, as it softens more quickly
-Combine the lemon juice, lemon pepper, paprika, turmeric, and black pepper with the vegetables and cook until they are at a desirable tenderness. Serve and enjoy!
4. SMOOTHIE
Click here to check out Sara's recipe on Tasteful Venture that this recipe was adapted from
Ingredients:
-Almond milk – 2.5 cups
-Bananas – 2, sliced and frozen
-Dates – 2, pitted (may substitute 2 TBSP honey for sweetness)
-Cinnamon – 2 tsp
-Turmeric – 2 tsp
Directions:
-Add all ingredients into a high speed blender and blend for approximately 30 seconds or until smooth
-Optional: add 1 half a TBSP of chia seeds to add fiber and healthy Omega-3 fats to this smoothie. Serve and enjoy!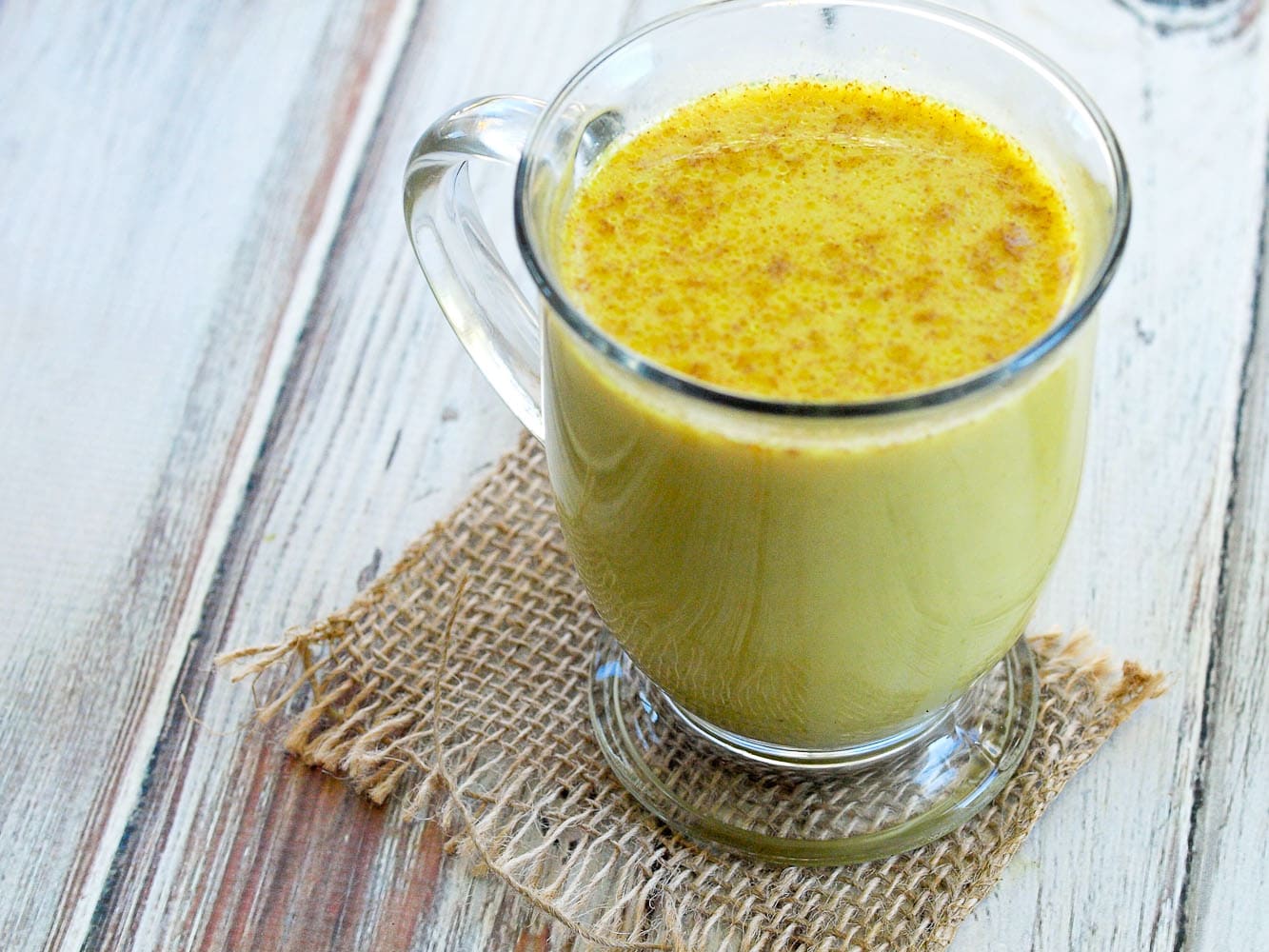 5. GOLDEN MILK
Click here to check out Dr. Weil's recipe that this was adapted from
Ingredients:
-Almond milk – 2 cups
-Turmeric powder – 1 TBSP
-Chai tea – 1 packet
-Black peppercorns – 3-4
-Honey – 1 TBSP
Directions:
-Heat a sauce pan on medium heat and add the almond milk, bringing to a light boil
-Add the turmeric, peppercorns, and honey and stir
-Turn off the heat and let the chai tea steep in the liquid for several minutes. Serve and enjoy!
ANOTHER SIDE OF TURMERIC: THE HISTORY 
Turmeric has been a staple in the Chinese and Indian diets for thousands of years. Its link to the culture and medicine can be seen throughout their histories. India has been the largest producer of turmeric in recorded history [9]. India is a country that is well-known for it's bountiful use of spices and is not only the largest producer, but also the largest consumer of turmeric.
India's ancient use of this herb had the same motivation as the current day's most notable cause for launching turmeric into its current dietary relevance – it's medicinal qualities. Ayurvedic medicine is one of the world's oldest "holistic" medicines [10].
Beliefs of ayurveda: The beliefs of this medical approach are rooted in the belief that overall health and wellness depend on the balance between the body, the mind, and the spirit. All bodies and their energy are believed to be connected to every other thing on this planet, which are all believed to encompass their own energy. Ayurveda believes that sickness and health defects stem from an imbalance in this energy. All bodies are believed to be made up of the following five elements: water, fire, earth, air, and space. This medicine focuses more on preventing these imbalances from occurring so that there is no subsequent need for treatments; however, treatments are available, with turmeric being a component of numerous treatments.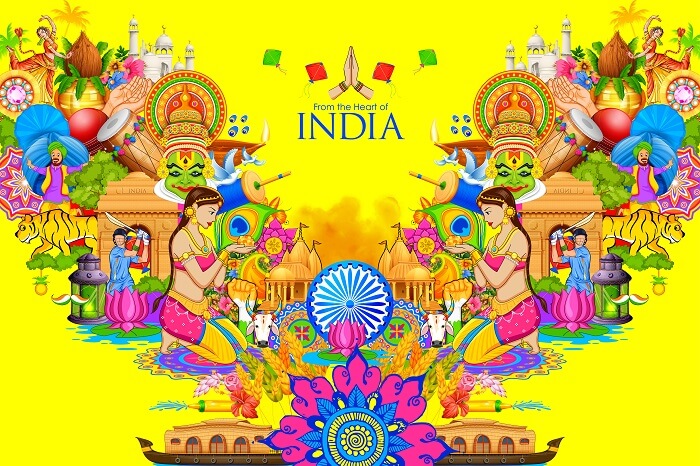 Turmeric has not always been used exclusively to infuse foods with flavor, but also to add its vibrant color to clothes. Buddhist robes have been dyed with turmeric for centuries, and in India it is a marital tradition that the bride wear a string dyed with turmeric around her neck to signify that she is prepared to run a household.  
The part of the turmeric plant that comes to mind while spicing up a dish is the root; however, turmeric might otherwise be unrecognizable when seen from above ground. It grows a beautiful flower that resembles and lily and that may be an elegant white or bright fuchsia pink. There is no doubt that turmeric's rich history and colorful beauty can make a dynamic addition to your kitchen, aid in reducing sodium consumption, and excite a variety of your dishes.  
Sources:
[1] https://dictionary.cambridge.org/us/pronunciation/english/turmeric
[2]https://scrubbing.in/four-reasons-add-turmeric-daily-routine/
[3]https://nutritionfacts.org/2015/02/05/why-pepper-boosts-turmeric-blood-levels/
[4]https://www.youtube.com/watch?v=4QnYBlq4AeQ&t=2s
[5]http://laurencariscooks.com/warming-carrot-ginger-turmeric-soup/
[6]https://tastefulventure.com/cinnamon-turmeric-smoothie/
[7]https://www.drweil.com/diet-nutrition/anti-inflammatory-diet-pyramid/anti-inflammatory-golden-milk/
[8]https://en.wikipedia.org/wiki/Turmeric
[9]http://turmericworld.com/production.php
[10]https://www.webmd.com/balance/guide/ayurvedic-treatments
[11]http://www.pbs.org/food/the-history-kitchen/turmeric-history/
[12]https://www.ncbi.nlm.nih.gov/books/NBK92752/
[13]http://www.pbs.org/food/the-history-kitchen/turmeric-history/
[14]https://www.turmericforhealth.com/general-info/history-of-turmeric